You might wonder what a Diversional Therapist does. Well, to quote a very famous philosopher: "The quality of life is determined by its activities." – Aristotle. Life's journey is not always plain sailing. As people get older they can develop feelings of loneliness and social isolation, along with reduced physical and mental capabilities. A Diversional Therapist is a member of the health care team, whose main responsibility is to design, create, implement and facilitate leisure and recreation programmes. These activities aim to support, challenge and enhance the different aspects of an individual. This may include anything from the physical, social, intellectual, sexual, cultural to the spiritual, psychological, and emotional wellbeing of the residents.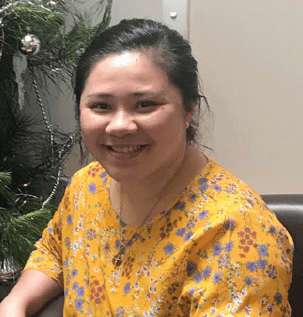 Corinne Quiza, Waihi Lifecare's new Diversional Therapist, explains the best thing about her job is being able to make a change and a difference to the people she works with. "Our residents not only learn from us, but we learn from them too. For me, the most challenging part is keeping people motivated and active to keep their motor skills going. The basic thing to consider is choosing something they like to do. We are all humans and not everything suits everyone, so I ensure there is always variety of activities available for the residents."
Corinne has completed 'Careerforce' Level 4 Diversional Therapy and found it very beneficial. "It helped me better understand what I was doing and why I was doing it. It emphasised how to deal with people and how to prepare more programmes in the most appropriate and beneficial way." Corinne has got off to a flying start. In only her first two weeks she has tirelessly worked around the clock to pull together a highly successful Christmas party for approximately 130 people. Well done!
Click on this link for an example of a weeks activities.