Tell me about your Birthing Centre achievements in 2019 Margaret?
Wow, the year has seen so much happen for us. Creating a strong and passionate team to provide our care has been a highlight achievement.  We are proud of our newly designed logo for our centre which has given the Birthing Centre a face. We have received an upgrade to our maternity menu thanks to our kitchen team. All made fresh onsite to support mothers with healing and for those who are breastfeeding. Redecorating of our postnatal rooms began earlier in the year and we have seen many new mothers enjoy the homely, fresh and welcoming space.
What have you found to be the most rewarding part of your job?
Definitely working alongside LMC midwives who have been providing rural midwifery care for many years (some as long as my generation were starting to be born). The passion, skills and knowledge our midwives bring with them into the work they do is truly inspiring. I also love seeing the parents smiles as they step out into the community after a few restful days of receiving care from us, it is priceless.
What challenges are you facing in the Waihi area with the national shortage of midwives?
At the moment we are facing a midwifery shortage crisis nationally and within our community we are feeling this shortfall dramatically. We have gone from 12 practicing LMC's just 5 years ago down to just 1 from Athenree and 4 from Katikati. There are none local to Waihi, our Māori wahine are struggling to find midwives, especially with the shortage of Māori midwives. If a local midwife is not sourced, our women are having to travel up to 1 hour every 4 weeks at the beginning of their pregnancy, then weekly later in their antenatal care as well as for labour/birth and postnatal care. Many low risk pregnant women are being forced to birth in a secondary care facility like Tauranga Hospital. This is putting pressure on the already stretched resources in their maternity wards.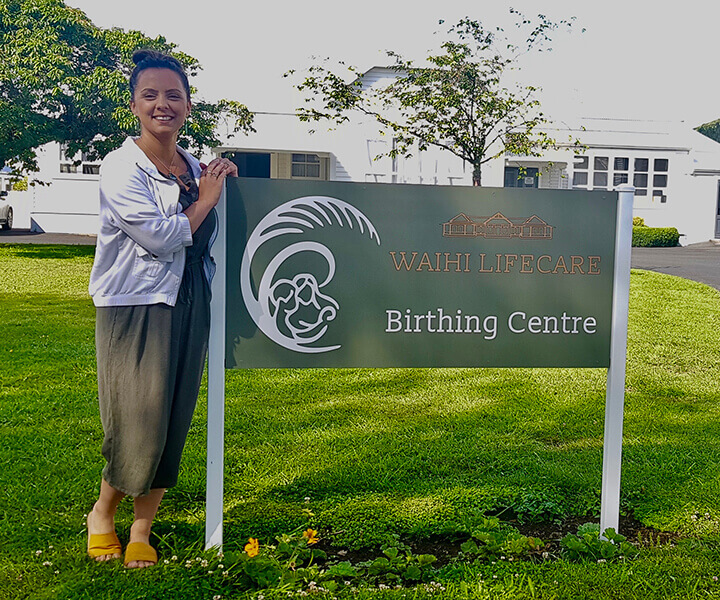 What do you see as the main benefits for local mums giving birth in the Waihi Lifecare Birthing Centre?
When welcoming a new baby/pepi into a family it is no secret we Love to be 'home', whether that be in our own homes, close to home, in our hometown and close to the people we Love. Having a rural Birthing Centre within Waihi means mums do not have to travel far or risk having a baby in the car on the drive to another facility. They can enjoy the sense of village that is felt from being 'just down the road' from their nanny, sister or their special support person.
Can Mums transfer back to Waihi Lifecare Birthing Centre if they deliver their baby in a secondary hospital – if so how long can they stay for?
Mothers and babies whose care is Low Risk are absolutely encouraged to transfer to Waihi Birthing Centre after delivering their baby at a secondary hospital. This is a great way for mums to recover after a long delivery or a Caesarean. Fathers are also encouraged to stay each night with their partner to bond with their new baby. The mother and her midwife work collaboratively in regards to the mothers care – mothers tend to stay with us 2-4 nights dependant on her own unique needs such as breastfeeding support, baby care, rural isolation and extra rest following a long labour and birth.
Are there ways that the community and community organisations can help to keep the Birthing Centre open, safe and attractive for our local mums?
There has been a great leap in our presence within the community over the past few months. It has been wonderful to connect with our local Lions Club and Iwi Kuia who are passionate about our facility, helping us to remain operational and providing a much needed service. Our Birthing Centre is government funded on a "per birth" basis. The flow on effect of the National LMC shortage in turn means that our funding is very limited.  Therefore it is imperative that we see more support behind our centre from the community to help keep it safe and open. I encourage our community to continue supporting new families and sharing the news of the wonderful services we provide here in Waihi. Gestures such as donations and gifts are welcomed with further upgrades to our Facility and resources on the horizon.
What can we look forward to for 2020?
In 2020 with the help of community donations and grants we hope to upgrade vital equipment in the Centre and continue to slowly redecorate. We are working on providing free antenatal classes – Hapu whananga as well as Wahakura weaving and traditional crafting workshops that support traditional Māori birth practices. More on this will be launched in the new year.